The number 1 productivity suite in the market just got better with CT Link's High Performance Bundle!  Be able to improve you workforce's efficiency and productivity with Office 365 while being able to optimize you WAN connectivity with a Cloud Delivered SD-WAN Solution from VeloCloud!
When you purchase any of these Office 365 (1 Year plan) products your will be given 1 VeloCloud Subscription for every 150 Licenses!
Exchange Online
Business Essentials
Business Premium
Enterprise Plan 1 (or other higher plans)
What is VeloCloud?
Velcloud is a Cloud Delivered SD-WAN solution that enables simple, agile and secure branch office wide area networks that includes cloud networking and dynamic multipath optimization to make ordinary broadband behave as Enterprise-grade links and a virtual network service catalog for efficient orchestration.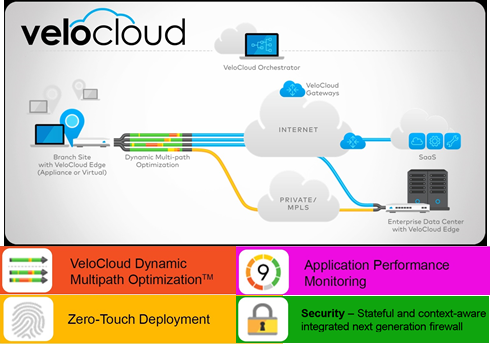 TERMS AND CONDITION:
Promo is valid until August 1, 2017
Minimum Order Quantity (MOQ) for Office 365 Promo is 150 licenses
Implementation, Consultation and Technical Support is not included
Promo also applies to other Office 365 Plans
VeloCloud Edge 520 for 30MBPS with 2 Ethernet Connection
Additional charges will be incurred if VeloCloud deployment is outside Metro Manila
Delivery Lead Time : 30 Days
About VeloCloud
VeloCloud is a software-defined wide area network (SD-WAN) solution that provides a secure, reliable, and high-performance network for enterprise customers. The solution uses a combination of software and hardware to provide a virtual overlay network that can connect multiple locations, data centers, and cloud services over any type of WAN connection.
The VeloCloud SD-WAN solution provides a range of benefits, including improved application performance, increased network agility, and reduced costs. By virtualizing the network, VeloCloud allows enterprises to leverage multiple WAN links, including broadband, LTE, and MPLS, to create a more resilient and efficient network. The solution also includes a range of security features, such as encryption, firewalling, and threat detection, to protect against cyber threats.
VeloCloud's cloud-based management platform allows IT teams to centrally manage the entire network, including configuring and provisioning devices, monitoring performance, and troubleshooting issues. The platform also includes advanced analytics and reporting capabilities, which enable IT teams to gain insights into network usage, performance, and security.
VeloCloud's solution is designed to be flexible and scalable, making it suitable for businesses of all sizes. The solution can be deployed as a hardware appliance, a virtual appliance, or a cloud service, depending on the needs of the enterprise. VeloCloud also integrates with a range of third-party solutions, including cloud providers, security vendors, and network service providers.