With the convenience of the internet and the evolving application market, company data is moving through different channels at a faster rate than possible before. This makes it easier for businesses to better serve the clients while also improving their operations. However, this also means that your data may be out there unprotected and used by people who should not have that data in the first place.
In 2016, the Identity Theft Resource Center (ITRC) recorded that about 1,093 US agencies and companies suffered from data breach instances, this is a 40% increase over 2015. As information is a company's critical asset, we should take the necessary steps in making sure that it is well protected from breaches.
With how freely we access and share data, the chances of incurring a leak of sensitive data such as intellectual property or customer data is not that farfetched. So how do we prevent this from happening? One way is to create a classification of protection levels that are easily identifiable through labels such as Personal, Public, General, Confidential, and Highly Confidential.

This is where Microsoft Azure Information Protection (AIP) can help you. AIP is a cloud-based solution which provides a continuous classification and protection of your corporate data wherever it may be. It provides this with its end-to-end protection and control for sensitive data which include data classification and labeling, data protection, data usage monitoring, and responding to malicious data usage activities.
Protect sensitive information anytime, anywhere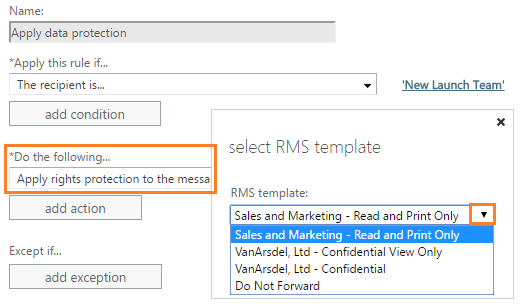 With AIP, you will be able to classify and label your corporate data for protection for its whole lifecycle. Also, since it is a cloud-based solution, it provides you the flexibility to integrate and protect with your Microsoft cloud services and applications such as Microsoft Office 365, SharePoint Online, Exchange Online, and OneDrive for Business. Below are a few of the features that you can expect to see with AIP:
Simplified and intuitive controls that help you make the right decisions and stay productive. Data classification and protection controls are integrated into Microsoft Office and common applications. One-click options make it easy to classify data.
Persistent protection that follows sensitive data to ensure it's always protected—regardless of where it's stored or with whom it's shared.
More visibility and control over shared data through tracking of shared data usage with powerful logging and reporting that allows you to monitor and analyze this data. Access to data can be revoked if required.
Safer sharing with customers and partners through definitions of who can access data and what they can do with it based on a use rights policy. For example, some users might be able to view and edit certain files but not print or forward them.
Deployment and management flexibility to protect data whether it's stored in the cloud or on-premises. You can choose how encryption keys are managed, including Bring Your Own Key (BYOK) options.
---
To learn more, you may contact us at 893-9515 and we will be more than happy to help you with your inquiries!