Office collaboration is becoming key to success in businesses right now. Business mobility and workforce communication have become so important that it can lead to you losing a big sale to your competitors. CT Link Systems, Inc. in an effort to improve their collaboration has decided to adopt Microsoft Teams. Below are a few functions of Microsoft Teams that we are enjoying and helping us collaborate easier:
Chat
Chatting using Microsoft Teams is an improved experience if you are coming from other Microsoft Instant messengers like Skype for business. One big difference is that unlike Skype you have an archive for your chat history. You don't have to worry that your chat between you and your superiors will disappear, you can always go back and check what was noted and even favorite a message for faster identification. Files are not immediately deleted as well once your chat is finished, it saves itself on your OneDrive and you will have a tab where all your files from that particular contact will be saved to make it easier for you to find your files! One feature missing from Teams so far is the capability to do video calls, however Microsoft has stated that they are working on it!

Teams
This is the main feature of Microsoft teams in which you can create a group, which serves as something similar to group chat but with more functions. Within each group, there are different tabs which have different functions, the default would be the wiki and files. The wiki tab would be the page where you can place your glossary for the group so that everyone has a reference area during conversations. The files tab is where you can view all the files shared in the group and even real time edit the file such as word and excel. You may also place more tabs per group if needed, any app available in Office 365 can be placed on it such as planner (a favorite in our office) to help remember deadlines and keep yourself on track.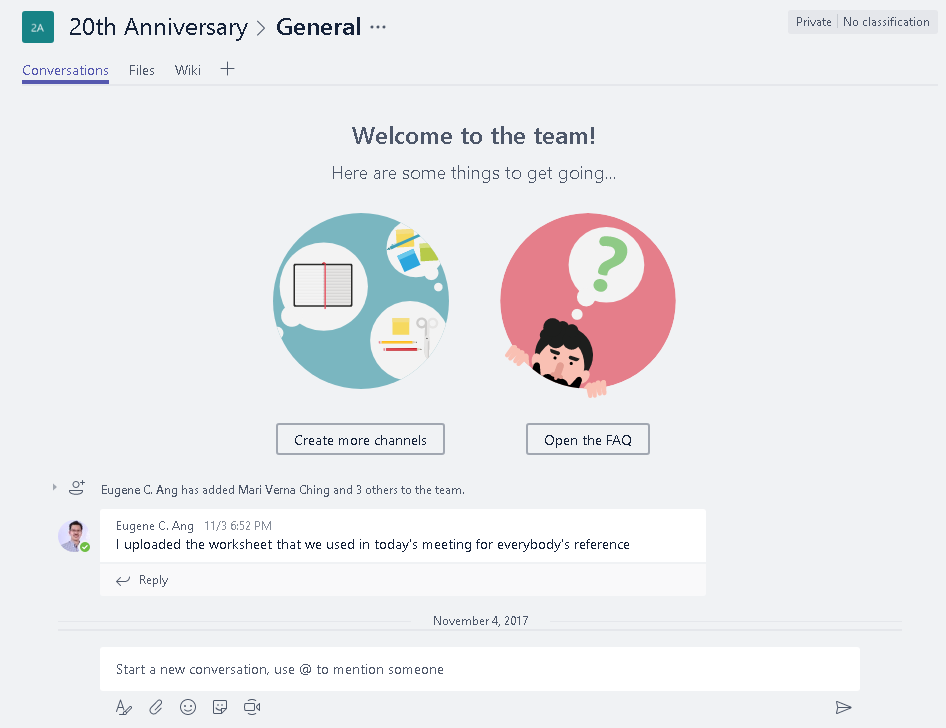 These are just examples of ways teams helped our organization, however teams is still constantly being improved for better user experience so keep a watch out for it! If you'd like to learn more, please visit our Microsoft page or contact us at 893-9515!