In today's business, storing data properly has become business critical.  Analyzing the right data against other data types (internal or by global standards) can be key in improving your business and putting it in the right direction.  This process is known as Digital Transformation.  To begin the transformation, companies must be able to store, access and analyze their data efficiently and as fast as possible so that they can gain insights before their competition does.  Just asked yourself, are you analyzing your business data like customer support emails or their chat logs?  If not it would be best if you started now before your competitors do.  Below is a simple guide to mapping your data with data management application Oracle®:
Data value starts with operational data (transactions), structured data stored in Oracle® Database.
Data becomes more valuable with the addition of data warehousing and business intelligence to provide descriptive analysis of your business based on historical data.
Data value is greatest when you combine all of your data assets — structured and unstructured — to gather predictive and prescriptive analytics from different sources, such as the Internet of Things (IoT) and other application data to fully participate in the era of digital transformation.
Below are ways in which Pure Storage can help your infrastructure make Oracle® effortless and efficient when analyzing your data:
Simplicity
All-flash solutions take half as long to deploy as other storage solutions and with Pure Storage's solution, you can be sure of its simplicity and validity as they have been fully tested and validated.
Fast and efficient Pure Storage snapshots let you automate the copy, clone, and refresh processes of an Oracle® database and reduce the time to copy and clone up to 90%.
Pure Storage solutions let you run Oracle® databases for development, test, quality assurance (QA), and production for online transaction processing (OLTP) and online analytical processing (OLAP) workloads on the same Pure Storage platform.

Data Reduction
Pure Storage solutions include both in-line lossless deduplication and compression for ultimate data reduction, which can help data reduction of 3 – 5 times the conventional Oracle® data types — such as number, date, char, and varchar.
By running your Oracle® solutions on Pure Storage, you not only compress data to lower its footprint and reduce storage needs, you also do away with the need for Oracle® compression.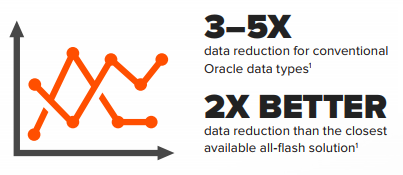 Performance
Pure Storage all-flash solutions improve performance by orders of magnitude, with sub-millisecond latency, no disruptions, and no effect on performance for upgrades or maintenance.
Pure Storage uses flash instead of disks, which eliminates the performance delays caused by the inherent latency of disk storage, which means you can run Oracle® OLTP and OLAP solutions in parallel on the same Pure Storage all-flash storage platform.

Click here to learn more about Pure Storage on Oracle®, to learn more about Pure Storage visit our product page or contact us at 893-9515!