Bringing the best of Synergy to you!
You are invited to join us and hear how Citrix can help you take the next steps towards building your secure digital workspace.
We will share the vision, key insights, and technology updates from Synergy '17 that will show you how to realize the full benefits of cloud while avoiding complexity and security challenges. IT and users co-create a software-defined perimeter that protects the business, data, and infrastructure. Digital workspaces secure and integrate technologies, platforms, devices, and clouds, ensuring that organizations can operationalize the future of work and drive business forward.
To register, provide your details HERE!
Program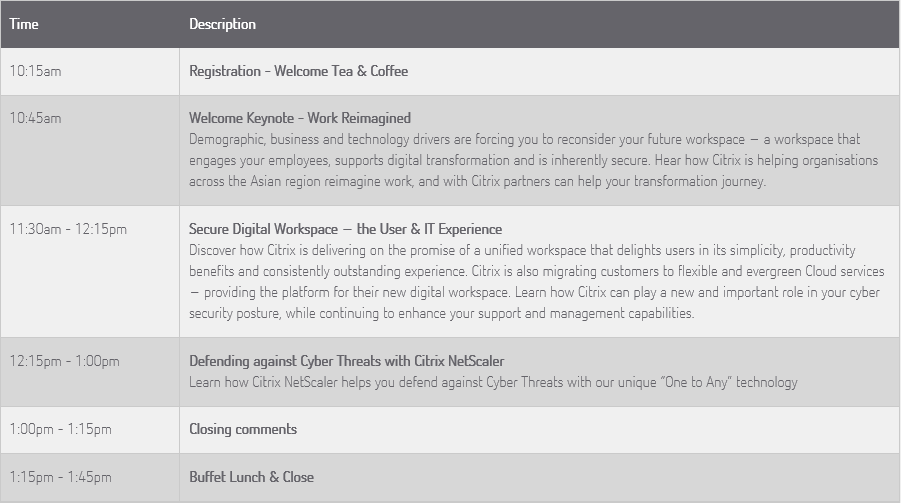 Venue

To register, provide your details HERE!
About HPE Synergy
HPE Synergy is a composable infrastructure solution that allows organizations to rapidly create and deploy IT resources in a flexible and efficient manner. The solution is designed to eliminate the silos of traditional data center infrastructure by allowing for the sharing and pooling of resources across multiple workloads and applications.
At the heart of HPE Synergy is the Composer software-defined intelligence engine. Composer enables IT administrators to quickly create and provision logical resources from physical infrastructure components such as compute, storage, and fabric resources. These resources can be rapidly composed and recomposed based on the needs of specific workloads or applications, allowing for the creation of dynamic and highly adaptable infrastructure.
The hardware components of HPE Synergy are based on a modular design that allows for easy expansion and scaling of resources. The compute modules are based on the latest Intel Xeon processors, while the storage modules can support a range of technologies such as SAS, SATA, and NVMe. The fabric modules provide high-speed connectivity between compute and storage resources, and support a variety of networking protocols such as Ethernet, Fibre Channel, and InfiniBand.
One of the key benefits of HPE Synergy is its ability to support a wide range of workloads and applications, including virtualized workloads, containerized workloads, and bare-metal applications. This flexibility is enabled by the integration of a variety of software technologies such as VMware vSphere, Red Hat OpenShift, and Docker.
HPE Synergy also provides a range of management tools that allow IT administrators to monitor and control infrastructure resources, automate routine tasks, and optimize resource utilization. These tools include HPE OneView, which provides a unified management interface for all HPE Synergy components, and HPE Intelligent System Tuning, which optimizes server performance based on workload characteristics.