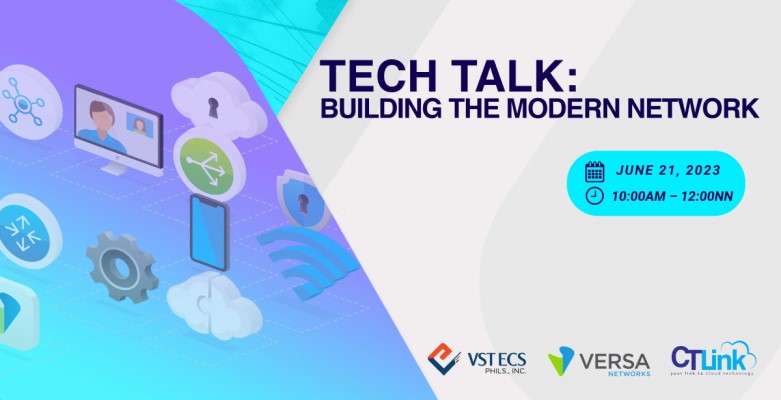 Explore the Power of SD-WAN in Solving Modern Networking Challenges
In today's rapidly evolving business landscape, traditional networking approaches often struggle to keep pace with the demands of a distributed workforce, cloud applications, and the growing reliance on the internet. This is where Versa SD-WAN steps in, offering a powerful solution that revolutionizes interbranch connectivity.
Versa SD-WAN presents a game-changing approach to network architecture, empowering organizations to embrace the modern era of digital transformation. With its comprehensive suite of features and capabilities, Versa SD-WAN effectively addresses the challenges faced by businesses, including network performance optimization, enhanced security, simplified management, and cost reduction.
This is why on June 21, 2023, from 10:00 AM to 12:00 PM at Society Lounge Makati, we will be hosting an event to delve into the significant issues Versa SD-WAN addresses. Our expert speaker from Versa will explore how this software-defined networking solution empowers organizations to:
Achieve seamless integration across branches: Discover how Versa SD-WAN enables seamless communication and collaboration between branches, ensuring a cohesive network experience.
Leverage the power of cloud services: Unleash the full potential of cloud applications by leveraging Versa SD-WAN's capabilities, enabling organizations to seamlessly connect to and utilize cloud services.
Enhance application performance: Learn how Versa SD-WAN optimizes application performance, ensuring fast and reliable access to critical resources, regardless of location.
Ensure data security: Explore the robust security features of Versa SD-WAN that safeguard sensitive data, providing organizations with peace of mind in an increasingly complex threat landscape.
Streamline network operations: Simplify network management and operations with Versa SD-WAN's centralized control and orchestration, reducing complexity and increasing efficiency.
By attending this event, you will also have a chance to win a pair of Razer Hammerhead True Wireless X – Earbuds during our Raffle! Don't miss out on this opportunity to discover the transformative power of Versa SD-WAN and network with industry experts.
Interested in joining us for the event? Contact us at marketing@ctlink.com.ph to register for this event!.