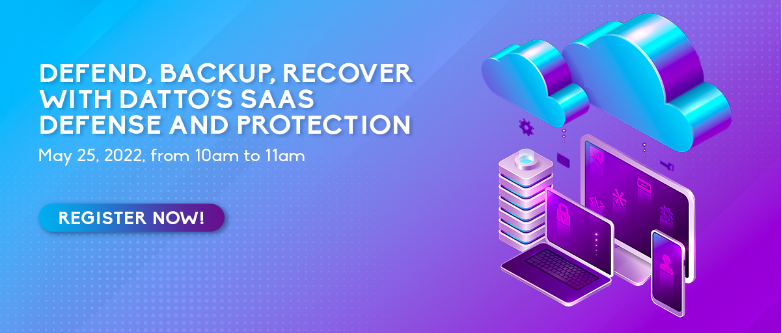 Today's business environment has drastically changed from the past few years. Business data is not just within the business perimeter with the growth of remote work. Endpoints and SaaS platforms (such as Office 365 and Google Workspace) are now data points where critical data is being saved instead of servers in the office. Meaning traditional means of backup are not covering all bases of the business.
This change needs to be addressed in order to keep your business data protected. This is where Datto can help.
On Thursday, May 25 (10AM – 11AM), join us for an upcoming webinar Defend, Backup, Recover with Datto's SaaS Defense and Protection for Office 365 and Google Workspace as we discuss how The Datto solution can help you improve your business' data protection. In this 1-hour webinar, you'll discover how Datto SaaS Defense and SaaS Protection provides an end-to-end security. You'll hear from Shaun Witherden, Senior Channel Development Manager for Datto, to learn the following insights:
A brief look into the current IT landscape and the vulnerabilities that need to be addressed
The importance of a complete backup solution to ensuring the safety of your business-critical data
The future of trends of data with regards to back up after 2022
About the Speaker
Shaun Witherden, Senior Channel Development Manager for Datto.
Shaun run a successful MSP for 12 years, growing his business from 3 to 80+ staff, through lots of hard work and Merger and Acquisitions. Shaun's specialty is growing high performance service teams ensuing customers' expectations are always met.
Register today and get a chance to win a Gaming chair and GC Vouchers at the end of the webinar!
Email marketing@www.ctlink.com.ph to learn more about how to register you and your company!