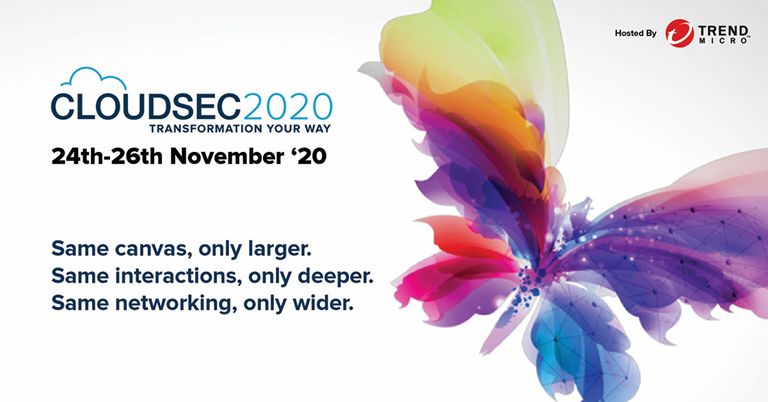 CLOUDSEC 2020 is the must-attend business and technology experience, delivering a content experience unlike any other virtual event with access to a community of cloud and cyber security pioneers, leaders and technical experts. 72 hours of non-stop innovation, you'll connect with experts from around the world while personalizing your own experience.

About CLOUDSEC
Founded in 2011, CLOUDSEC has established itself as a global community for cyber security experts and professionals. The event aims to inspire technology professionals and users to embark on a continuous learning journey to explore and learn about industry trends, best practices and new technologies to secure the digital infrastructure and manage the technological risks of their organizations in safely supporting their corporate goals.
---
Registration is now open, there is no cost to attend this virtual event, Save the Date for November 24th to 26th and secure your spot today to stay connected, informed and on track with your #CloudSecurity journey.

About Trend Micro
Trend Micro is a global leader in cybersecurity solutions, dedicated to making the world safer for exchanging digital information. Founded in 1988, Trend Micro has grown to become a trusted provider of cutting-edge security solutions for businesses and consumers alike.
Trend Micro's comprehensive range of cybersecurity solutions includes endpoint security, network security, cloud security, and security management services. These solutions are designed to protect against a wide range of threats, including malware, ransomware, phishing attacks, and other forms of cybercrime.
One of Trend Micro's core strengths is its ability to stay ahead of emerging threats. The company employs a team of experts who constantly monitor the latest cyber threats and develop innovative solutions to counter them. Trend Micro's solutions are designed to provide proactive, real-time protection against both known and unknown threats.
Trend Micro's commitment to cybersecurity extends beyond its products and services. The company is also dedicated to raising awareness about the importance of online safety and promoting best practices for cybersecurity. Trend Micro regularly publishes research and insights on the latest cybersecurity trends and hosts events to help educate businesses and individuals about the importance of cybersecurity.