Managed detection and response (MDR) is an outsourced service that provides organizations with threat hunting service and responds to threats once they are discovered.  What sets it apart from other security services is the human element in which security providers provide access to their security resources such as their researchers and engineers who will now provide analysis to incidents while monitoring their networks.
The challenges MDR can solve
One of the more significant solutions MDR can provide to businesses is solving the lack of security skills within their organization.  Unlike bigger organizations, not all businesses can afford to hire and train dedicated security personnel that can do full-time threat hunting, which then gives them access to security which normally would be out of their reach.  This benefit is more apparent in medium sized organizations as they are targeted by cyberattacks while not having the proper resources or manpower to defend themselves adequately.  However, it must be pointed out that even if organizations budget costs and manpower to a dedicated team, they might not be able to find the right personnel in the first place.  In 2016, there were 2 million unfilled cybersecurity positions, a number that is expected to rise to 3.5 million by 2021.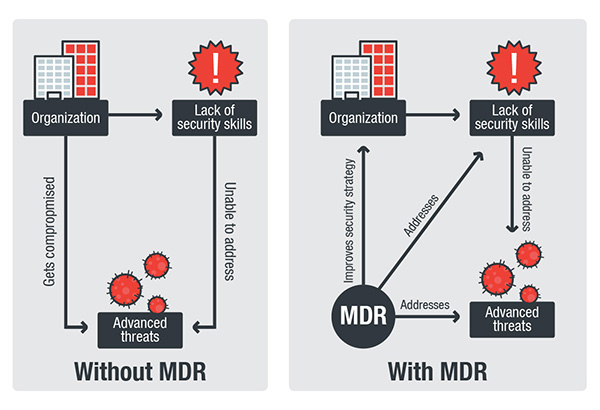 Another challenge that is often overlooked by businesses is the sheer amount of alerts the security team receive on a daily basis.  Not all the alerts are malicious, but they can't be easily identified so they must be checked individually, and threats found must also be scanned for correlation to see if there is a connection to find any bigger attacks planned in the future, and all of this take time.   MDR tries to address this problem by not only discovering the threats but also doing an analysis on the factors and indicators involved in an alert.  Analyzing and contextualizing are the most important skills of a security professionals' arsenal, as security technologies can block threats but knowing the reasons and the patterns of the incidents can help you block bigger threats in the future.  MDR tries to solve the skill gap in cybersecurity that smaller organizations cannot usually afford due to their limited resources.
How does Trend Micro's MDR work?
Trend Micro's MDR provides a wide array of security services, including alert monitoring, alert prioritization, investigation, and threat hunting. It uses artificial intelligence models and applies them to endpoint, network, and server data in order to correlate and prioritize advanced threats. By investigating prioritized alerts, Trend Micro threat researchers can then work with organizations to provide a detailed remediation plan.
To learn more about Trend Micro's MDR, you may read the original article or you can contact us at 893-9515 and we will be happy to answer your questions!