On April 25, 2023, iBoss held its Partner's kickoff to celebrate each of their partners in the Philippines. This was the first ever partner's kickoff held in the Philippines where iBoss recognized the efforts of all its partners throughout its stay in the Philippines.
We at CT Link Systems, Inc. were honored to receive the Rising Star Partner of the Year Award for 2022 for our efforts during 2022. The award was given to CT Link for achieving the following:
Helping a financial institute in the Philippines replace their legacy VPN with the iBoss solution.
Recognition for our team's capability to do the following with little to no help from the iBoss team:
o Customer Presentations
o Customer Demo
o Creating PoC plans and Implementing a PoC
o Providing best practices/Security policies for the SFI Industry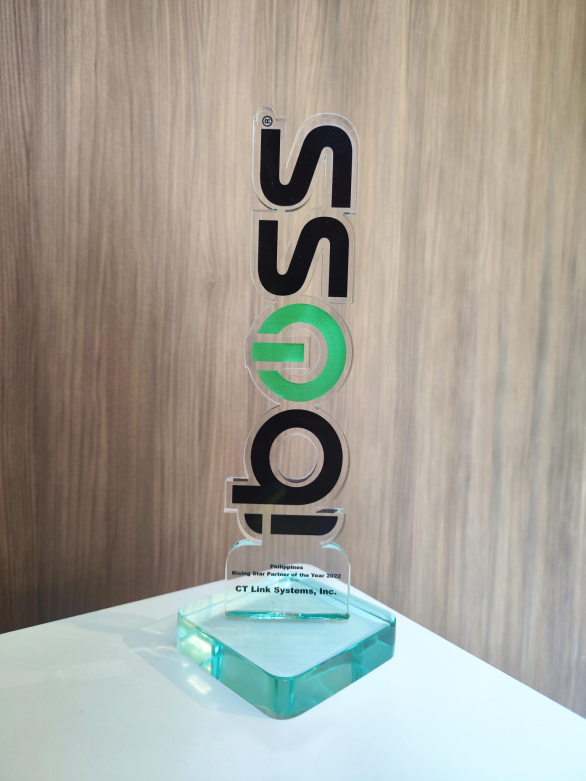 For context, our customer consulted with us with regards to their current situation and what we thought would be the best way to solve it. Firstly, due to the pandemic, remote work has becoming more common. To enable this, our customer published their hosted on-premise web applications publicly so that that users could access the resources through VPN. This allowed users to access their resources from remote locations but also had serious security risks as well.
Firstly, they were unable to control what users were able to access, meaning they could access resources which were confidential and unneeded for their job. They were also unable to verify users working remotely if they were really their employees or hackers who have taken their credentials.
With iBoss, our customer's users were able to connect to the web applications without the need to publish it publicly. They were able to use the iBoss' solution to act as a gateway in which users accessed through the VPN to act as the security layer for their connection. iBoss' applies each security policy for each connection, to ensure that they are only able to access resources that they are allowed to. Another feature that our customer was able to apply with iBoss was device posture checking. This allowed them to ensure that each device used to access the network was compliant with all security policies such as updated software for their malware agents or applications before connecting to the network.
Lastly, they were able to apply MFA into their system with iBoss. This allowed them to ensure that whoever connected to the network were verified. Allowing them to ensure that their remote workers were not hackers with stolen credentials.
Thank you iBoss for your recognition and we look forward to many more years of successful partnership. Let's make 2023 and the future years more fruitful than the last!
About iBoss
iBoss is a cloud-based cybersecurity and web filtering platform designed to protect organizations from advanced threats and inappropriate content. The platform is designed to provide advanced threat defense, data loss prevention, and web filtering for organizations of all sizes, from small businesses to large enterprises.
The iBoss platform is built on a cloud-native architecture that provides seamless scalability, ensuring that it can accommodate growing organizations with ease. This architecture also allows the platform to be easily integrated with existing security systems and applications, making it a versatile solution for organizations looking to enhance their overall security posture.
About CT Link
CT Link Systems, Inc. is a premier IT Solutions provider based in the Philippines. We are dedicated to delivering innovative solutions that meet the evolving needs of our clients. Our goal is to be your "Link to Cloud Technology" for businesses looking to improve their digital capabilities. Our solutions include multilevel security, hybrid cloud, and workspace solutions. Established in 1998, CT Link has built a reputation as a reliable partner for companies seeking a competitive advantage.
We work with leading international vendors to offer the latest and most cost-effective solutions. Our engineers are highly skilled and trained, providing expert planning, implementation, and support services. At CT Link Systems, Inc., we understand the importance of technology and the role it plays in driving business success.